We'd heard about it from our friends the Heidelbergers for years, but a scheduling conflict always got in the way of our own enjoyment of the Kulinarische Weinwanderung Freinsheim — a path through the vineyards outside a small town with plenty of local traditional and fancy-pants eats along the way — until this year.

We'd just had a little bitty Stadtamhof Weinfest the previous weekend. It featured some Fränkish whites, but many more imported reds. I was not impressed. I clung to the hope that the next weekend in real, honest-to-goodness wine country would wash away the taste that Weinfest left in my mouth.
We rented a car on Friday morning, left early Friday afternoon, and promptly got stuck in traffic on the Westbound A3 just outside of Nürnberg. So our trip took an hour longer than intended. But OK; the big event wasn't until the next day. In the end, we arrived just fine.

The Heidelbergers planned out a route for us making use of public transportation exclusively — and the festival encourages that. The Wanderung route takes you from the Bahnhof at the edge of town straight into a vineyard and on your way along seven kilometers of local drink:
white wine spritzers (Weißweinschorle)
plain old glasses of wine
even some local reds
And food:
Bratwurst (weird to see it not in Nürnberg size)
Pig on a big stick
Pig chunks on little sticks
fancy stuff
traditional, seasonal stuff (think Pfifferlinge and Semmelknödel and Blutwurst)
some glorious-looking desserts (I didn't have any; I was keeping room available for all that Neuer Wein, which can be very filling)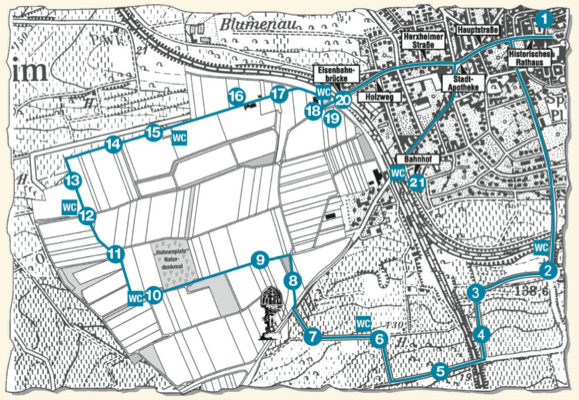 Here are some hints for next time (I'd love to do it again!):
Try not to bring too much crap along with you. You're going to be carrying a glass along with you for the whole route. Make sure whatever you carry along fits in your backpack, satchel, whatever. Don't count on your Drinkin' Hand® to come through for you — it's busy!

Give up all hope of having a quiet, restful sit along the way, unless a shady spot between the rows of vines is OK for you. There's plenty of that available. You might get lucky and find a table at the odd food stand, but you'll be better off if you don't expect it. The whole route was CROWDED with people. Of course, the perfect weather might have had something to do with it this weekend.

Facial tissue packets and hand-sanitizer gel are your best friends along the way (aside from those in the know who convinced you to come along and let you bunk up at their apartment, of course). All those port-o-potties run out of supplies faster than you can say "unspeakable filth." BYOTP. You might stumble upon a mobile pay-toilet (you know, the trailer kind) or two along the way, but they are off the beaten path (surprisingly…) and since they are orders of magnitude more pleasant to use than the plastic outhouses, the lines are likely to be just as long there.