Checking back through old posts, it would seem like the last update on Bavaria's Slowest Construction Project® was over a year ago: Bridge Work Still in Progress. But maybe this story is coming to a close, after more than 8 years — four years longer than originally planned. 1
Despite major distractions from local life due to work stress and a few short trips out of town in May (did you see our Cinque Terre post?), we somehow managed to hear that the Bruckmandl2 is back at his post since a week or two ago.
We headed out early this afternoon on foot to get a sneak peek at the museum of Bavarian history that forced our beloved Donaumarkt farmers' market to move further inland across from the cathedral — it's not opening until May 2019, but let's hope the bridge's (re-)construction crew is not in charge.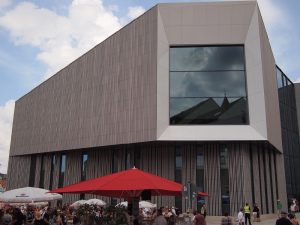 After walking past the museum, headed north on the Eiserne Brücke, I glanced to the left and thought…"something is missing here…"
They took down the shelter over the middle segment of the Steinerne Brücke! I walked over to our old digs on Stadtamhof and took a closer look.
Sure enough, although the auxiliary bridge is still up and walkable, it's no longer mandatory. The whole bridge was open to pedestrian (and bike, for masochists) traffic for the first time in over eight years. The Bruckmandl is back, too.
The town was crawling with river cruise tourists today3. Seems like the entire region was there too — it was the annual city-wide upscale Antikmarkt, and the weather was agreeable (if a bit warm). Nice to return to our house just bit further removed from the action for a quiet afternoon before the facing the maelstrom of the coming work week.
Still doing better than the Berlin-Brandenburg airport fiasco! [↩]
"little bridge dude" [↩]
one took my picture, gave me a thumbs-up and said "Very good!" — she probably thought me an authentic local due to my Lederhosen & Teeshirt; a look I call "Bairisch Keschu-Ell" [↩]