That long-awaited travel was a bug that bit us again. Sarah booked us a package for an opera in the Roman arena in Verona and a hotel stay.
Theater of Operations
First step was to finish work on Friday and get our butts into Italy. We got a room at a Best Western in Trento. We thought we'd stayed their before, but upon arrival, it became clear that this was a new venue for us. It was dark when we arrived after work, but the views the next morning were great.
After breakfast, we considered our options:
drive directly to Verona
joyride along some lakes
go off the beaten path and check out Lusiana again some more from last time
We discarded #1 and #2 above due to the expected tourist saturation based on German license plates on the roads on the way down. The drive to Lusiana was glorious: weather, scenery, atmosphere, and of course, company. We opted for a toll-free route, hoping for scenic views and were not disappointed. We stopped several times along the way just to ooh and ahh.
We sat on a city square at a bar open for lunch and drank Crodino and enjoyed sandwiches before setting off for our hotel in Verona.
It was a pretty easy drive getting to our hotel. Two things stood out:
the shower was excellent: a built-in shelf AND a bench!
the croissants the next morning were phenomenal
After a change of clothes, it was time for a night at the opera. We stopped off for dinner at La Pizza di Paolo & Rosetta and were pleasantly surprised by the selection and friendly service.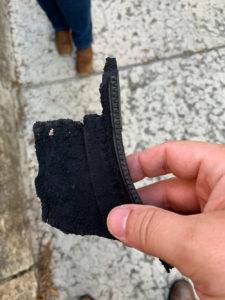 It was there that I first noticed something wrong with my shoe.
As we continued our walk towards Piazza Brà (the arena), large chunks of the sole started crumbling away. By the end of the performance, both soles were 80% gone. None of this was going to be a big deal, until the rain hit just after midnight. We tried hailing cabs with no luck until we were most of the way back to the hotel. The last chunk of sole detached in the hotel lobby. Walking home after dark on cobblestones in pouring rain in your bedroom slippers? DO NOT RECOMMEND
Fortunately, the weather the next day was glorious (at least where we were) and we motored off after a hearty breakfast to iPer la grande I in Castelfranco Veneto. We loaded up on non-perishables and even stocked the cooler in our car with some perishables. Who knows when we'll get the chance again. GET VACCINATED SO I CAN SHOP
Driving back, we ran into a few of the usual traffic slow-downs approaching the Brenner Pass, but nothing too terrible. From Innsbruck, we took the B177 towards Zirl and the German B2 and Garmisch-Partenkirchen1 to visit some pals in their new place and bring them some housewarming Italian groceries. And use their bathroom. 😬
Feeling much better after that, and some light refreshments, we had an easy drive through the heart of Munich back to Regensburg.
Note to future me and other takers of that route out of Innsbruck: your transmission will get a WORKOUT; that climb is STEEP! [↩]