For all our Italy enthusiasm over the years, it feels weird to admit we'd never been to Milan before November 2022.
We did a long weekend there, departing Regensburg after work on a Friday for Zurich. Staying in Zurich on the way to Milan made it convenient to reconnect with our pals P. and H. We stayed at a B&B Hotel near the Zurich airport, because it's not far from their neighborhood. I'm not sure I'd stay at that B&B place again (or any franchise, it's a hotel chain). It felt like it was mid-level between Easy Hotel and Motel One. It would do a in a pinch, but probably not my first choice going forward. After a lovely lunch and chat with our pals the next day, we pressed on towards Milan, arriving after dark in the rain.
Sarah used booking.com to get us a room at Porta Tosa from Saturday night to Tuesday morning. Our host Stefano kindly human-shielded a public parking spot across the street for me on our way in, and we only had to pay for parking on Monday. That was convenient; it worked great with EasyPark. Stefano had the paper logo pre-printed for us to show the meter-checker-person we'd paid that way.
Cibo
We didn't have any major points on the itinerary besides the Duomo. Porta Tosa is basically a straight line east from the city center on a bus line and a tram line, so we used that a lot. Stefano provided a very useful map with some recommendations for food and activities in the immediate area, and there were good overlaps between his recommendations and Sarah's own research. We ate at
…besides some fast-food pizza (OMG with cacio e pepe supplì) al taglio and occasional coffee and pastries while out walking around. It was all wonderful, and not at all as fancy as I'd feared. Cooperativa La Liberazione had kind of a hipster socialist gourmet vibe. There we learned the word stinco – much more delicous than it sounds.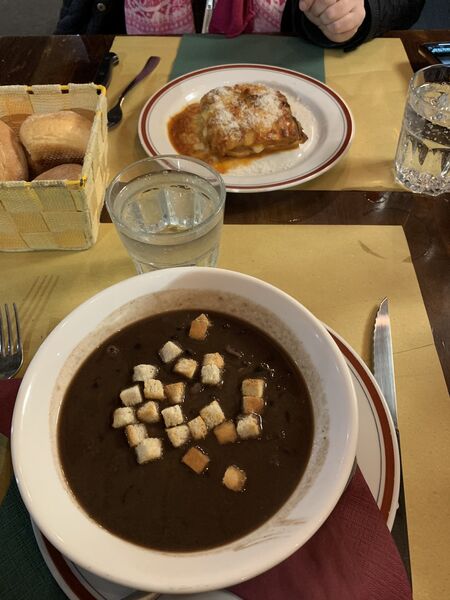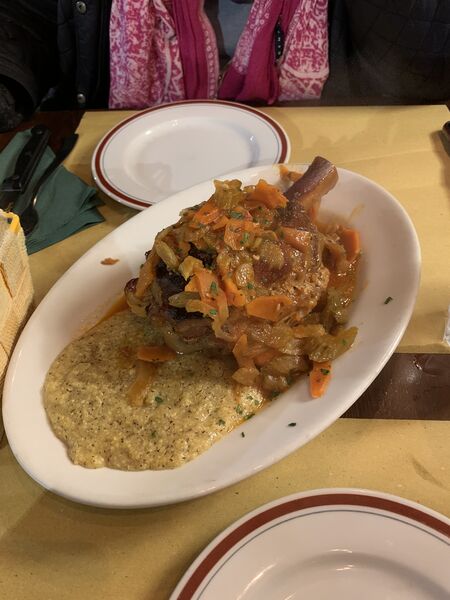 Locanda del Menarost squeezed us in without a reservation on Monday night, told us we'd have to eat and give up our table in 45 minutes, but then relented and let us stay when someone else cancelled their reservation. That was wonderful food too – particularly the desserts.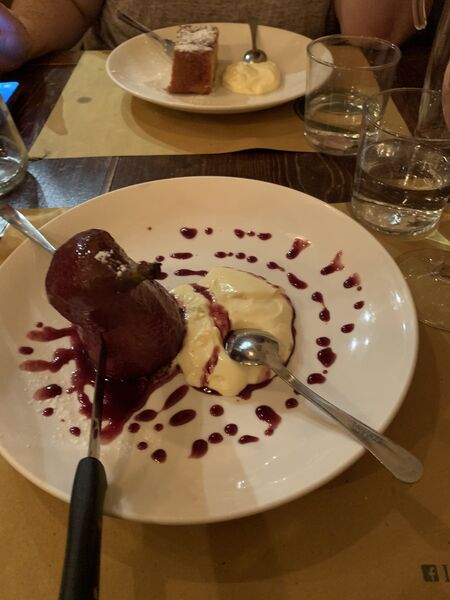 We arrived at al Bacco for lunch just as they were opening, and the hostess greeted every single party (except us) with a hug and a smooch initially, and then later chef emerged from the kitchen all smiles and hugs and smooches too. Clearly we'd stumbled upon a local regulars' joint. It was cool to observe.
Duomo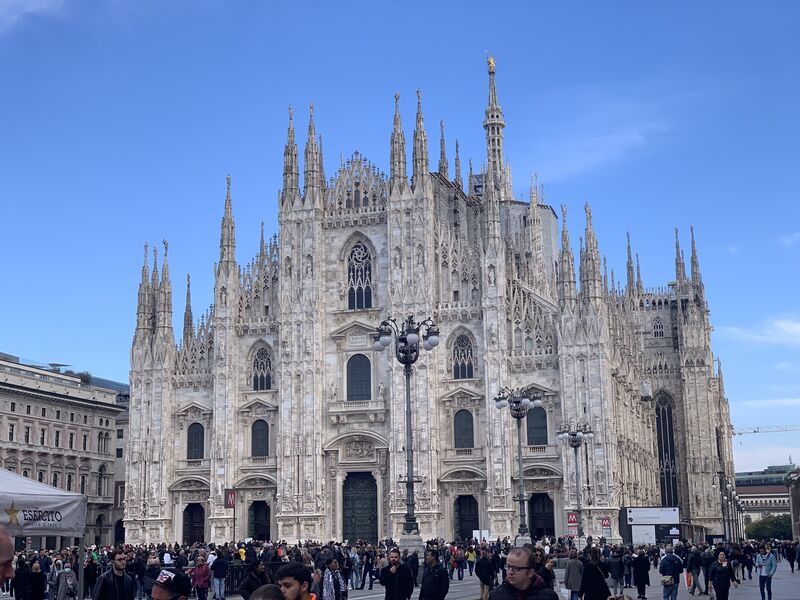 This was the main attraction, mostly by default. We didn't come to Milan seeking it out. It was thing the thing that's there year-round. We opted for the expensive visit package, including the elevator ride to the roof, and the views were worth it. Even under cloudy skies.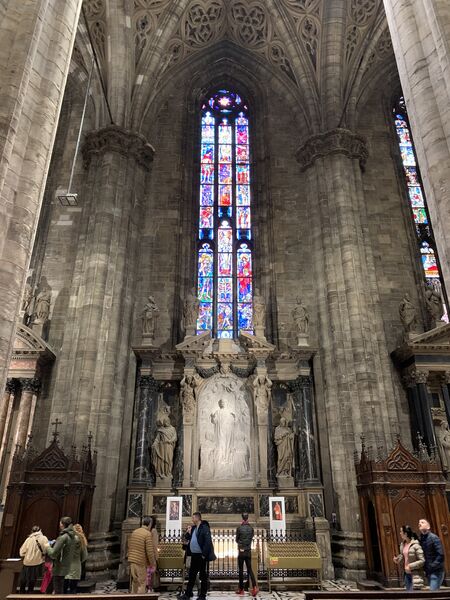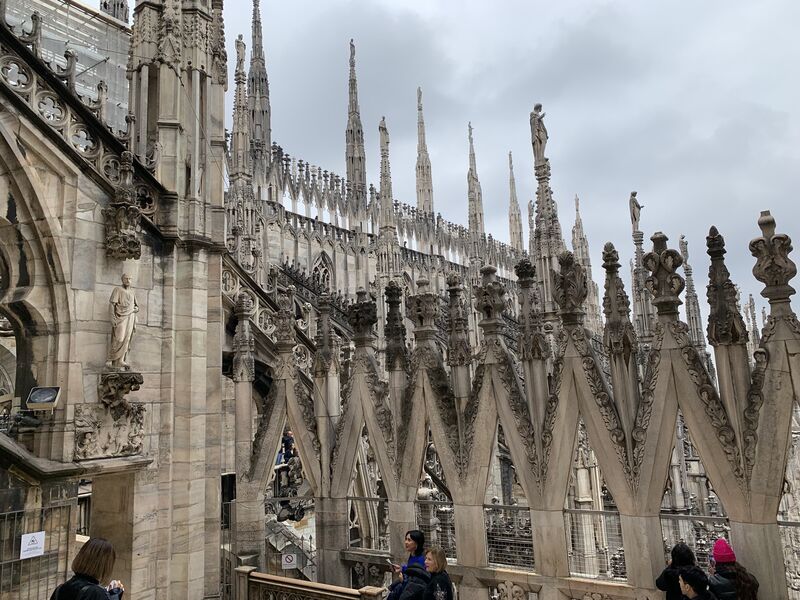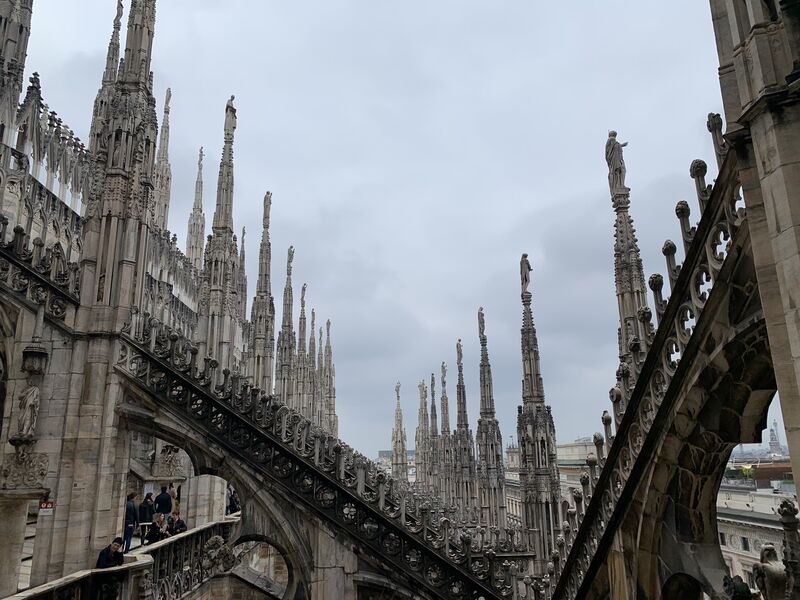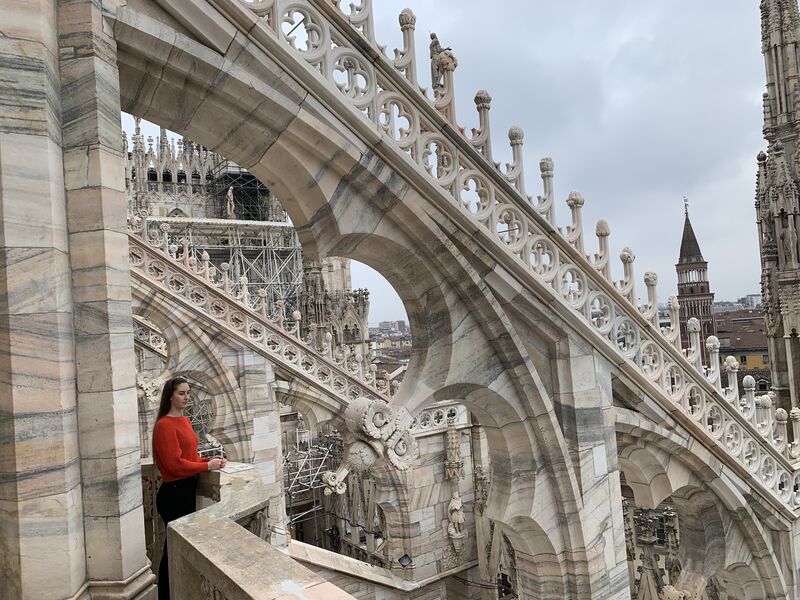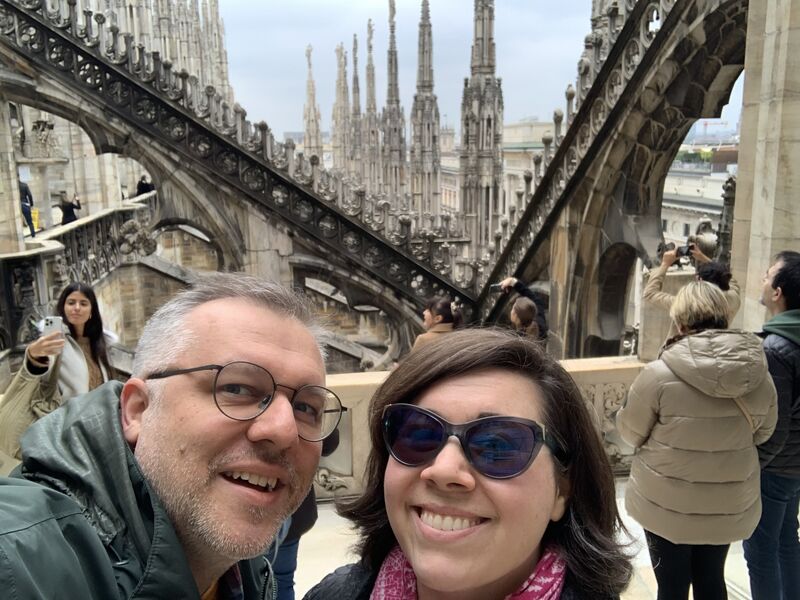 You can see the entire set of photos from this trip here.